How to Make Your Own Delicious Home Made Marinara/Spaghetti Sauce
Many pasta dishes call for marinara sauce or spaghetti sauce. It is an essential ingredient of lasagne. A very quick and simple, yet delicious meal, is to just boil any pasta, sauté with olive oil & garlic, sprinkle your favorite cheese & serve it with a spicy dish of marinara sauce. Accompanied by a simple salad, you have a very satisfying, nutritious meal.
When I make pizza, I also use this marinara sauce as the topping.
I have found that most of the store bought sauces have lots of sugar as an ingredient. They are also not as tasty as the type you can make at home. My recipe is a compromise between the two as I used canned crushed tomatoes to make spaghetti sauce. It is often cheaper than buying fresh tomatoes and of course, it is very convenient, time wise.
I use crushed oregano and parsley. If you have fresh herbs do use these. At times I also use fresh basil or the dried variety. I prefer making the sauce spicy, but if you prefer a mild version, just ignore the use of chili pepper or chili powder. The sauce may be stored in the refrigerator for a few weeks.
The sauce can be made in 10 minutes. If you would like to add other vegetables, like zucchini, peppers or mushroooms, you may do so at the stage that you sauté the onions. See Recipe below.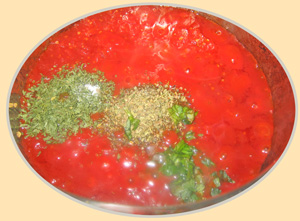 Spices added to pot of canned tomatoes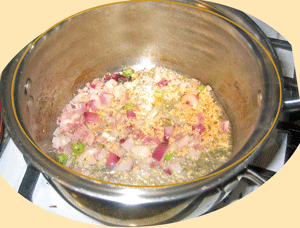 Onions and Garlic being braised in Olive Oil
---
---